Notifications for Events
Information about kick-off, a goal, tennis breaks, opening odds or odds changes
Trefík can show messages at "Windows Notification Centers". The messages can cover defined events connected with teams, odds, results and live score data.
The window for messages definition can be open from the main window: User section, a button Notifications. Or from the Live window. The following window is designed for defining the events: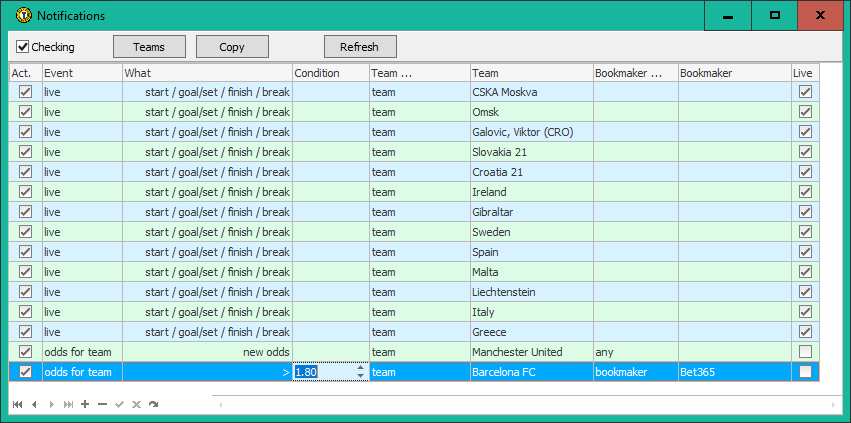 New events can be added from the window Live. Then the events are connected just to the particular matches and after the match is finished then the event is deleted from the Notifications window. The events added from the Live window has active the column Live. After placing the cursor onto that column the match identification is displayed.
Events can be added using the button PLUS at the left bottom area of the Notifications window. Then a new row appears and you can define the type of the event. The following types are available:
odds for a team - it is possible to define whether the moment when the first odds appears should be announced. Or if a change of the odds value is higher/lower than a defined value. The odds could be checked for a defined team or for any team from a defined team list. The odds can be checked for a defined bookie or for all bookies in Trefík,
team result - after reading a match final result from the Trefík updates and the results corresponds to a defined value (whatever, win, tie, loss),
new team match - if a new match for a defined team (or any team from a defined team list) appears from the Trefík updates. Useful especially for tennis when the user can watch all new matches of his favourite players,
live - if the live data feature is active in Trefík then the notifications can reflect the start of the matches, finishing matches, score changes, breaks in tennis. These notifications can be set for defined teams for all their matches. Or just for particular matches from the Live window; in this can the notification record is deleted after the match is finished.
The notification can look like this: