System bets in Trefík
Coupon with groups of predictions
Trefík allows to work with extra coupon types. One of them is the system bet: a coupon where all available combinations of all entered groups of predictions are created.

The first column at the list of matches contains the number of the group. All matches from the same group are always bet together. And the groups are combinated with each other as the parameters set.
There is a new column at the Coupon windows: FIX. It marks the matches which are always bet at any combination of any groups: fixed predictions.
The picture above shows 4 groups. The group number 4 contains just a fixed prediction, so this group is bet together with all other combination of groups.
The button Combination at the left bottom area displays a window to set the stakes for the System Bet: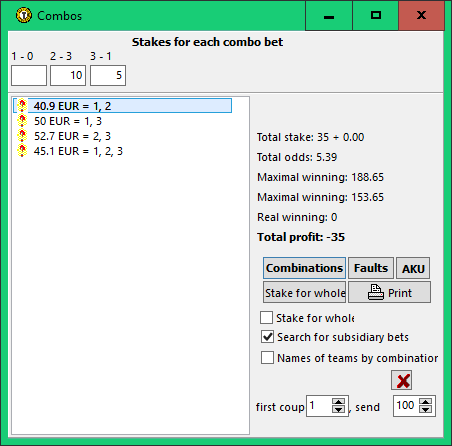 Here are all combinations in details and possible winnings. At the top area there are stakes for all combinations defined by the number of containing groups.
Above the fields with stakes there are stated the numbers of created coupon with combinations. All created combinationas are detaily listed under the stakes fields. There are the possible winnings. We can test the whole coupon when marking a match as non winning at the Coupon window. Then this window with the combinations shows us the situation with the overall profit.
The button FAULTS display the overview of impact non winnings predictions to the overall profit: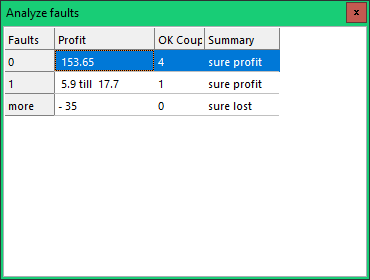 The button AKU shows all possible coupon overall balances: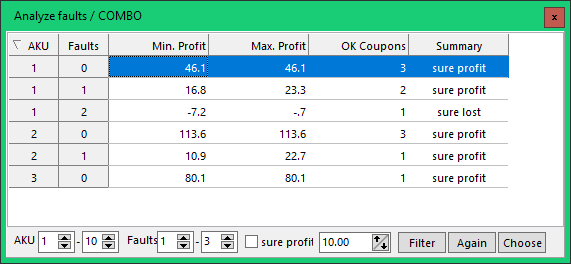 .. the column AKU marks how many groups are at each coupon.
For the most effective creation the groups at the System bet we can use the button Groups at the bottom area of the Coupon window: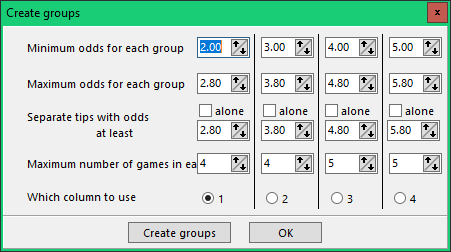 .. and we can let Trefík to create the groups according our parameters.
Trefík is able to work also with the itemized bet.