Odds Level at the Offer window
The odds level is available for selected matches at the Offer window
The odds level is the calculated from all picks (1-X-2 or 1-2) for a given bet. At an odds level of 100%, the bettor could get back the exact amount invested in any bet result (for example, the odds for home and away wins and also for a draw in the amount of 3.00). It goes without saying that when betting at one bookies, the exchange rate will never be at such a level (perhaps with the exception of marketing events). The difference from the 100% level determines the bookmaker's margin. It can vary across sports and competitions, other factors can also influence it.
In Trefík, it is now (January 2023) possible to display the odds level even without using a filter directly in the Offer window, i.e. in the overview of current matches. Just use the menu of the right mouse button and the option Show columns / Show odds level. The situation may look like this: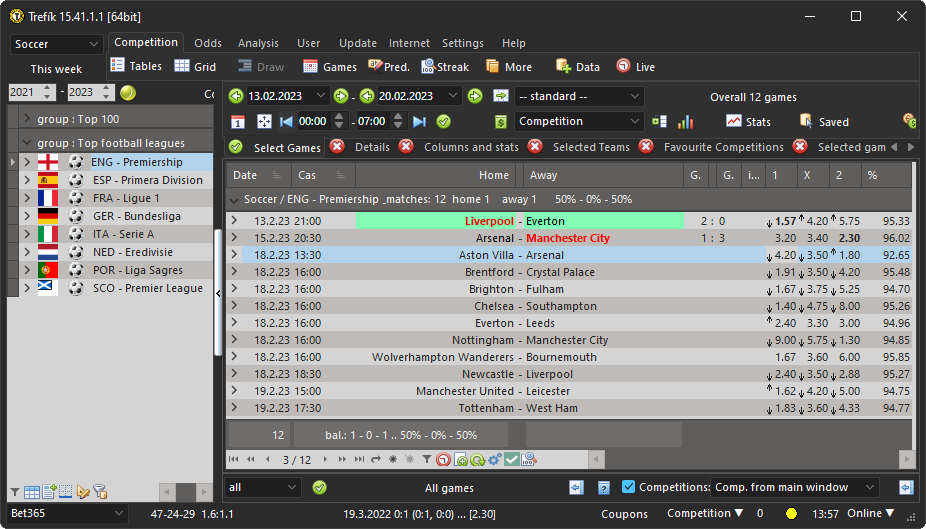 .. the far right column shows the calculated odds level corresponding to the displayed odds.
For example, the value for a match Aston Villa - Arsenal was counted this way: (1 / (1 / 4.20 + 1 / 3.50 + 1 / 1.80))
In the Offer window, it is possible to display the best odds from a selected set of bookmakers for matches (the set can be defined in the Odds / Bookmakers window). In that case, the odds level shows the result of the calculation for the highest odds from the selected bookies. If a level higher than 100% occurs, it is a so-called surebet. In the Offer window, the situation may look like this: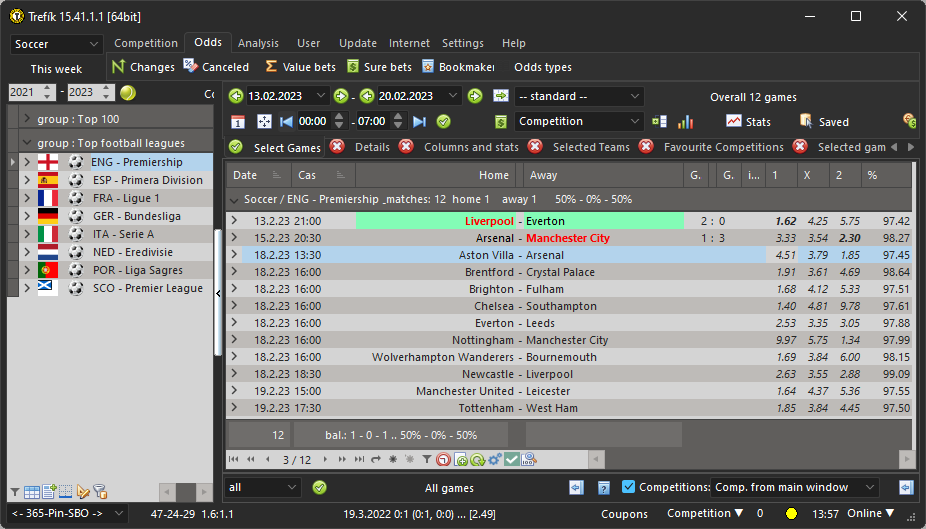 .. a group of bookies is selected at the bottom left (the group is marked as "365 - Pin - SBO", which is defined as a group collection odds from bet365 + Pinnacle Sports + SBOBET; any other list of bookies can be defined there). The last column shows the calculated odds level from the highest rates from this selection of bookies. After placing the mouse cursor on a displayed course, an overview of individual odds from all bookies will be displayed.