Software Trefik is a powerful tool for bettors. Trefik contains up-to-date odds from 40 bookmakers as well as the odds archive since the year 1996. Trefik is original Czech software which was introduced in 1996 and was translated into Polish in 2001. The English version is already being sold as well.


How to bet with Trefik, Trefik 12 was released in June 2013, news in 2014,
Trefik 15 is available now, Sample Analysis in Trefik, Previous season ranking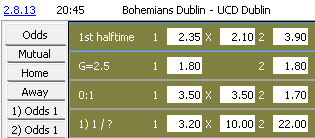 First steps with Trefik, sample betting strategy, sample with 1st half results
Trefik news in tennis, Recent matches filtering
Counted odds filtering, Team shape, Team shape 1,
Poisson Distribution in Trefik

Which way do you bet? Do you have your favourite teams and follow their recent games? Or do you pick games from your favourite leagues and do you check the statistics of both opponents? Or do you just follow the odds at your selected competitions?
Trefik can automaticaly find games meeting your tested betting strategy.
Set up the list of conditions for a match you would like to think about betting at. The conditions can contain rules for recent games results, mutual results, home and away ground balance, number of scored and scored against goals, odds level and dozens of other parameters.
Trefik can apply the group of conditions to the up-to-date bookmaker offer and find the games according to the user criteria. That is the way how Trefik user can define its own betting strategy (a set of conditions for a match). Trefik can apply this strategy for already played games and count the real efficiency at betting (also when using the Martingale betting strategy).
Trefik has many interesting features. One of them is the connection with the webpages of the bookmakers. You can read about sending coupons to bookmakers.
Trefik contains a lot of statistics and information. You can find there the numbers of shots at the Premiership, Bundesliga or NHL, KHL games. You can find also the longest winning streak at second halves of soccer matches from your leagues selection. You can create the coupons, check the current profit of a coupon with "live coupon" - online results from matches placed on your coupon; it is an interesting feature especially at combo coupons.
The list of sports and competitions in Trefik. The list of bookmakers in Trefik. Data in Trefik are updated at the background - you can work with Trefik and in the meantime new data are updated.
You can find easily the Sure bets and Value bets.
Trefik brings all interesting sport statistics and brings you a good opportunity for effective betting
Trefik covers tennis data from both men and women tournaments from the prize money 5.000 USD (including qualifications) and differs the tennis players according to their favourite surfaces. Trefik contains also the doubles tournaments and also the ATP and WTA ranking (including archive rankings). When analysing the tennis matches you can see the recent matches, mutual matches, the surface balance and also for example the balance when the odds were the same as at the current match.
New features are added into Trefik every month since the year 1996. New versions are free of charge for the registered users.